Hi there everybody!
This week is another bonus episode as we had a couple of friends come over for a Beer and Boardgames night where we played a couple of rounds of Monty Python Fluxx. Obviously hilarity ensues when you put a few nerds in a room with a game inspired by Monty Python...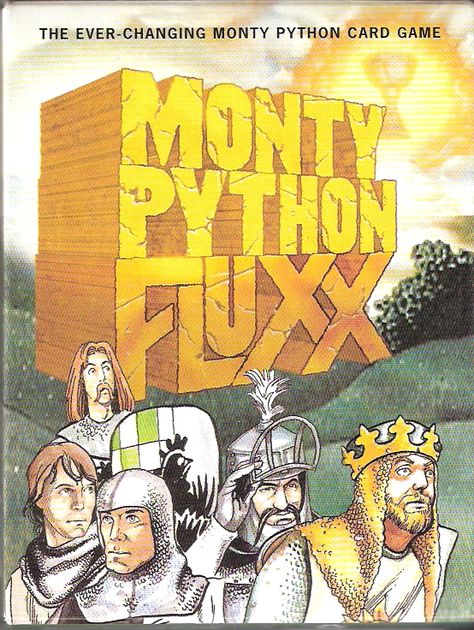 Monty Python themed version of Fluxx. The random and chaotic nature of the Fluxx engine makes it a perfect vehicle for the crazy world of Monty Python! At the start of the game, each player holds three cards and on a turn a player draws one card, then plays one card. By playing cards, you can put new rules into play that change numerous aspects of the game: how many cards to draw or play, how many cards you can hold in hand or keep on the table in front of you, and (most importantly) how to win the game. The card mix focuses on Holy Grail with other references added from Flying Circus and other Python material. For example, one win condition card might require you have to have the Knights who Say Ni and a Shrubbery card face up in front of you. Part of the Fluxx series.
There seems to have been a little bit of audio popping in the latter half of the episode, sorry about that but I have no idea how it got there. It's still worth listening to if you ask me. ;)
For those interested in purchasing a copy of the game its available on a ton of different sites and probably at your local Games shop so be sure to support your local game store when you can. :)
To get in touch with us either email us at 2brotherstalkgames@gmail.com or connect with us on twitter @paulomalley and @zugai. If you would like to follow our guest Sam, he is available via twitter @_thatnasaguy_ and on Instagram @thatnasaguy. 
Thanks to Gavin Dunne for letting us associate this show with his music, go search out some more of it!
And as always,
Keep Rolling!